Service Feedback from Children, Young People and Families
We really value the feedback we receive from the Children, Young People and Families we work with.
This is a selection of feedback we have received in recent months (last updated February 2022)
Comments from Children and Young People: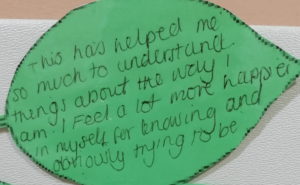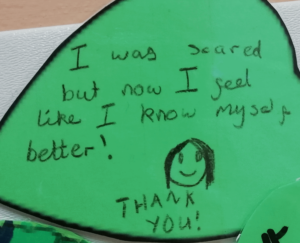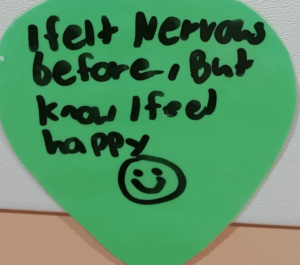 It was really fun I really enjoyed it thank you so much bye!

I was able to talk about me and not get judged and for someone to listen to me

The lady listened and reassured everyone

I liked making a story

The person I saw listened and understood me

They listened and gave good advice

I had fun playing the games

I had a sit down and a chat

The person who did it was really nice and a good listener

I found questions hard to answer
Comments from Parents and Carers:
Very friendly staff, very approachable and understanding

Very welcoming and made me feel comfortable straight away and also worked around my son's needs

Communication at the appointment was fantastic. Brilliant job of making me feel welcome and relaxed

Informative, supportive, understanding and caring. Signposting our needs well.

Explained thoroughly so I leave with a good understanding of my child's diagnosis

Made my daughter feel safe

Thorough explanation of what was going to happen and what to do next. The clinic was clean and tidy. Friendly staff.

Thorough explanation of what was going to happen and what to do next. The clinic was clean and tidy. Friendly staff.

Listened to both me and my daughter. Very understanding and supportive.

[Staff member] was fantastic. She spent a long time answering our many questions, explained everything at every step of the process and was thorough and detailed in explanation of observations and diagnosis criteria.

My son opened up to you. You gave him time.

[Staff member] is very professional, helpful and my son felt comfortable with her whilst taking part in the assessment.

Efficient and informed throughout the process after the first meeting at Chelmsley Wood.

I cannot fault the assessment process itself. My only recommendation would be extra staff to reduce current wait times.
[My son] loved his certificate –Fantastic! [Staff] were fantastic throughout the process. The way they directed their discussion towards [my son] in the first instance, then to me was fantastic. Well done both and thank you.
Spending a long period of time dedicated to our case. Taking time to discuss all issues.
Made us feel at ease, and reassured. Well informed.
Good communication and quick process.
[Staff member's] observations of my son hit the nail on the head!  The written report was perfect and explanations of everything was excellent. Thank you.
The clinician was lovely. 

Initially it was a very long wait (impacted by Covid), which was frustrating but beyond anyone's control. Once we were seen it was efficient and quick.

Very in depth assessments. Listened very well to my child and us. Great in depth feedback after assessments.
We use this feedback to continually improve the service we offer. You can see some of the changes we have made to our service based on our feedback over recent months here:
You Said… We Did… (April-June 2019)
How to raise a concern or make a complaint
If you or you child are unhappy with any aspect of your experience with this service we want to know about it. We are keen to learn from you so that we can take action when things have gone wrong and improve what we do in the future.
You can raise a concern or make a complaint through the University Hospitals Birmingham Complaints Page – How to make a complaint. Making a complaint will not affect your treatment.
Rating: 1.00/3. From 2 votes.
Please wait...