About the Specialist Assessment Service – Complex Needs (CN) Team
Case Leads
Children in need of support with all areas of their development will be allocated to a case lead, this will be one of the health professionals in the CN team.   The case lead organises the initial conversation with parents/carers and identifies the key issues, including family context.  If the child's case is considered appropriate for the CN team the case lead will then plan the child's multi-disciplinary assessment appointment. Following the multi-disciplinary assessment appointment, the case lead will coordinate a holistic report written by the professionals involved during the assessment process. Throughout the child's journey with the CN team the case lead will continue to be the main point of contact for the family and other health professionals; keeping  an overview of those involved with the child's on-going care/support.
Community Paediatrics
Community Paediatricians are doctors who specialise in the care of children and young people away from the hospital setting.  Within the CN team they will explore the effect of any known diagnosis that a child might have upon their development, and work together with parents and other team members to plan how the child might reach his or her full potential.  For children with no known diagnosis, they will with parent's permission arrange relevant investigations to see if one can be established, having first reviewed the medical history and examined the child.  Community Paediatricians liaise with other specialists who might be looking after the child and help parents and the CN team ensure that overall medical care is well integrated.  The Community Paediatrician might sometimes prescribe medication to help aspects of the child's condition, or ask the GP to do so.
Occupational Therapy
Paediatric Occupational Therapist's work with children and their families to understand a child's motor skill development, in particular hand function, and sensory processing. Assessment and intervention is needed when difficulties in these areas impact on the child's ability to participate in daily living activities appropriate to their age and stage. Within the CN Team, Occupational Therapists work with families to identify their child's areas of difficulty and set goals for intervention. The OT will recommend a program of activities for you to incorporate into your child's daily life towards the achievement of these goals. This will be included in your child's report. If required the intervention will include assessment and recommendation of specialist equipment aids to help you manage their daily care; for example, seating, bathing or toileting. Where appropriate the OT will also liaise with outside agencies in order for there to be a coordinated approach in meeting your child's immediate and long term needs.

Physiotherapy
Paediatric Physiotherapists work with children and their families to promote the child's optimal physical development and functional independence. Within the CN team, Physiotherapists have specialist knowledge and experience in working with children with complex physical difficulties. Their role is to undertake a thorough assessment of a child looking at their physical development, posture, quality of movement, areas of strength and weakness. Once difficulties are identified, they are discussed with parents and a detailed report is produced, including a physical management plan which will be agreed and taught to parents. This may include a postural support programme to be incorporated into every day play activities, specific movements, exercises or stretches and use of specialised equipment such as supportive seating or standing frames.

Speech and Language Therapy
Paediatric Speech and Language Therapists provide assessment, treatment, support and care for children who have difficulties with communication, or with eating, drinking and swallowing. Within the CN team, Speech and Language Therapists provide assessment and intervention for children with communication difficulties. This includes supporting the development of a child's early play skills and interaction skills, understanding of communication and use of communication. This may include using signing, objects and picture symbols alongside spoken language. Speech and Language Therapists also provide assessment and intervention for children with dysphagia – this means difficulty with eating, drinking and swallowing. This may include providing advice about safe eating, drinking, use of modified diets and liaising with other professionals involved in supporting the child's diet.  Advice and recommendations relating to a child's communication needs and eating and drinking will be included in the team report, as appropriate.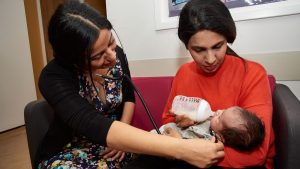 Specialist Inclusion Support Service (SISS) Solihull 0-25 SEND Service
Specialist teachers from SISS work as part of the CN team providing specialist assessments of children's sensory, learning and play development. Intervention is provided as part of the multidisciplinary assessment and in addition support is also provided to the child and family to identify any necessary support in nursery or school settings.
This specialist support is part of the graduated approach to supporting children identified with additional needs in Solihull. Children may require longer-term support from SISS and as a service we provide educational assessment, intervention and advice to eligible children / young people until they leave school. For further information please see our local offer information.
Rating: 3.00/3. From 1 vote.
Please wait...