Solihull Special Schools
As communication occurs throughout the day it is vital that all adults around the child are able to support this. We need to make sure that developing communication skills can be transferred into a range of real-life situations and the child's learning environment must also be adapted to meet their communication needs. Speech and Language Therapy support in Special Schools, therefore, includes the following:
Assessment
The Speech and Language Therapist will complete a profile of a child's communication strengths and needs. This will include recommendations around appropriate strategies that will support the child and communication partners to be successful in their interactions.
Targeted support
This is achieved through various methods of support, depending on the child's needs e.g.
Training workshops for communication partners
Speech and fluency in the classroom – staff training that builds awareness of supportive strategies to maximise children's speech clarity and fluency skills.
"Communicating Together" workshop
"You Matter" training
Coaching sessions to support communication partners with implementing identified strategies.
Intervention groups facilitated by SLT staff, attended by children & appropriate communication partner (e.g. teaching assistants): Small group classroom-based intervention targeting speech sounds and fluency. This provides coaching for classroom staff alongside the children to implement speech and fluency strategies and ensures carryover of developing skills.
Review
review of progress made/impact of intervention strategies.
Schedule of input
Assessment for students' needs and allocation to appropriate workshops will primarily take place during the Autumn Term. Children referred at a later point in the academic year will be assessed within the timescales as agreed in the service specification.
The number and frequency of workshops provided will be agreed according to the level of need in that particular academic year for each school.
Intervention groups and review will normally occur during the Spring and Summer Terms.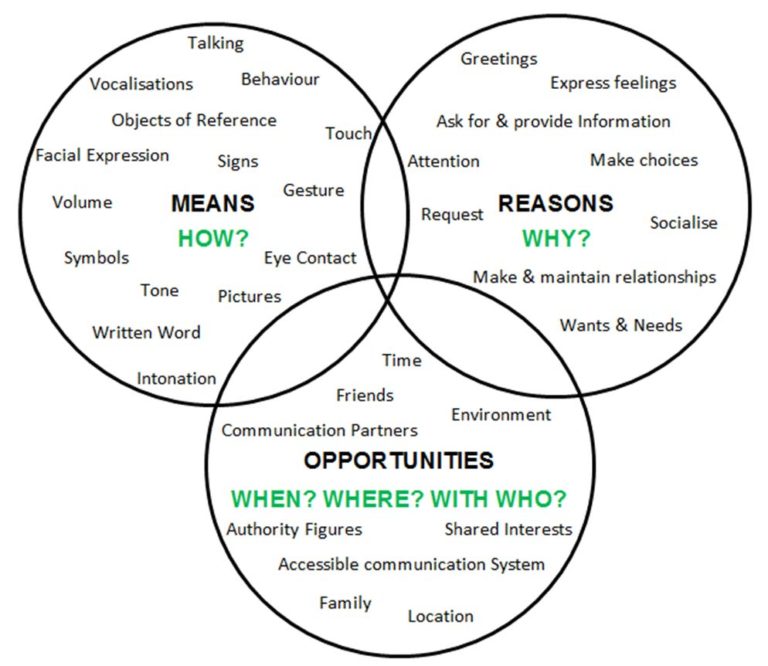 Functional Communication requires a shared balance between means, reasons and opportunities. When there is a breakdown within one of these areas, various difficulties may arise:
If there is a breakdown of someone's means to communicate they will encounter difficulties expressing themselves.
Without the reasons to communicate there would be no desire to attempt interaction with others.
If an individual is not provided the opportunities, no communication can take place.